Be the Example Pentecost 20A
Christian values are caught, not taught.  In our assigned Scripture for this Sunday, St. Paul encourages all Christians to model good and faithful behavior to others.  How can we "be" the example of faith to those who are watching us?  This is part 3 of a three-part sermon series "Representing Christ in Your Daily Life".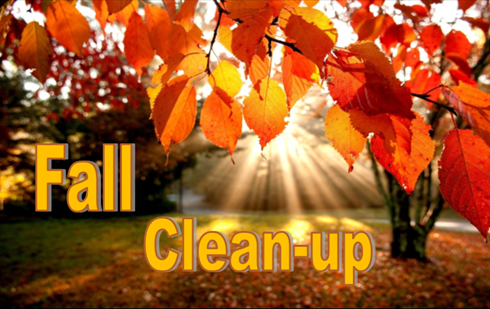 A fall clean up day is scheduled for Sat., Oct. 17 at 8 a.m. (raindate 10/18). Please contact Pat Wood if you are unable to attend but would like a job to do at a time that works better for you.  Please bring your own tools. Remember: Many hands make light work!
On Saturday, Oct. 24, we will have our second annual Vendor/Craft Fair from 10-3 p.m. Click here for a flyer to share with your friends and family. Please share the event from our Facebook page as well.  We really need your help before, during, and/or after this most important community outreach/fundraising activity.  Set up begins on Fri., at 10 a.m Please call or text Barbara if you can help at 973-462-7006.  Or email Barbara Osborne at sothvendorday@gmail.com.
WORSHIP INFO FOR OCT. 18
STREAMING IS HERE!: 
We are excited to announce that you can now view our service 
live at 9:00 a.m. each Sunday
. Click on this link to see the service and subscribe to our SOTH channel: 
https://www.youtube.com/channel/UCH8w_r1Rb9HH7i6SD15Tu6w
  Don't worry if you missed the live broadcast.  All services are archived on our channel. Many thanks to all who worked so diligently to make this possible. We have 
discontinued Zooming
 our service on a weekly basis. You can also search for us on Facebook and 
like 
our page. 
https://www.facebook.com/SOTHNJ/
.
FREE WEBINARS: Karen Ann Quinlan Hospice is offering community Zoom  webinars on living with grief and hospice care.  Please call 973-383-0115 or visit https://www.karenannquinlanhospice.org to register.
God's work. Our hands Sunday 
has passed, but the needs of these various organizations continue. Please consider one or more of the following. 1) For 
Lutheran World Relief
Personal Care Kits consisting of 1 lightweight bath towel (20" x 40" to 52" x 27") dark color, 2-3 bath-size bars of soap in original wrapping, 1 adult size toothbrush in original packaging, 1 sturdy comb no packaging, 1 metal nail clipper, no packaging. LWR.org/kitvideos for reference if needed.  2) Donation to the 
Lutheran Disaster Response
,  can be designated to a specific disaster on the check memo line. 3)  
The Sparta Ecumenical Food Pantry
.  Donations can be mailedto 
32 Main St. Sparta, NJ  07871 
or if you prefer to donate food items, place them in the shopping cart at SOTH. 4).
Connect for Community 
is a very worthy organization. Donations can be placed in the collection plates, made out to the organization.
Volunteer Opportunities:  More hands are needed to make light work.  No prior skills necessary to help your church in these ways:
1. Bring in items for" God's Work our Hands" organizations.
2.Help clean up the church on Sat. 10/17/20 at 8 a.m.
3. Assist with or donate food for Vendor Fair on Sat. 10/24/20 from 10 a.m. – 3 p.m.  Set. up begins at 10:00 a.m. on Fri., 10/23.
4. Serve on the church audit team.
5. Serve on Church Council.
6. Become a Sunday worship servant.
7. Sing in the choir (post-COVID)
8. Help to run a parish activity (post-COVID)
9.  Join the volunteer church office staff.
10. Organize Faith Formation opportunities by serving as the FF Superintendent.
11. Prep a meal for the Trinity Faith Kitchen.
12. Help with the Thanksgiving meals project.
Please email the church office at office@sothnj.org or call 973-729-7010 for more information!